The High-Altitude Climber
It all started with a brave "Come on, try to get up there" from my father, who encouraged me to climb one of these huge boulders, which were lying on meadows in our holiday resort Oberstdorf, when I was a little boy. My father loved the sea, but the mountains a little bit more. He gave me this love on my way.
Read more
I remember how great the task was for me, which he set me so nonchalantly. My childlike curiosity and my thirst for action drove me up to these first "summits". I only thought about it when I was standing on top. Because coming down turned out to be much more difficult, especially when I started to think a little bit about how to do it. Several wounds, scratches and tears later I had the experience of how I could not only get up safely but also descend quickly.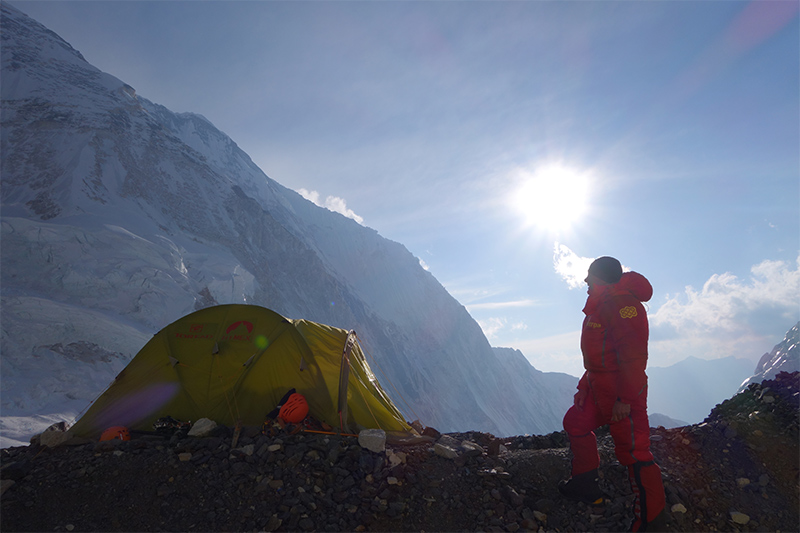 These first experiences were the foundation for me to venture higher. Dare and courage – in the true sense of the word. Daring. I knew only one goal: to always get a little bit closer to heaven. Up to the top and down again safely. I was proud of the first "2" in the altitude of a mountain, then inevitably came the "3" and "4" and then I succumbed to the magic and charm of Nepal.
 Everywhere and independent of a certain altitude I always felt a feeling that should become very important for my further way. Respect for what surrounded me. Nature gave me respect and humility, which I feel today as a basic requirement to survive on high mountains. Humility and respect help me to fit into the context. To have the courage to endure and feel my own insignificance in the midst of these giants, to be able to do nothing here. To surrender and let go.

Nepal became my destiny. I was immediately wired to the country. The people cast a spell over me as well as the overpowering nature that determines their daily, hard fight for survival. What it means to own almost nothing and yet to share this with me still touches me deeply today.
Many friendships with Sherpas were formed on expeditions and last until today. One of them is very important for me. Pema Chossang Sherpa, who saved my life in 2009. Since then November 17th is my second birthday. Coming back to life was a very special journey.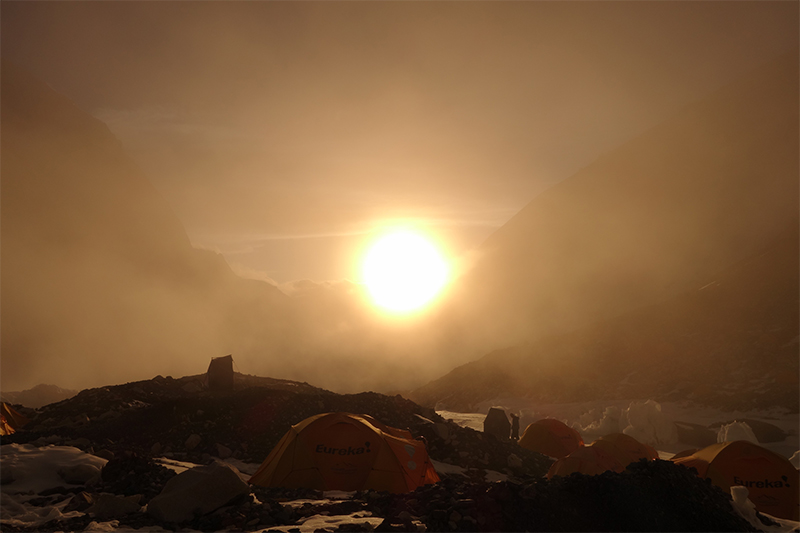 On the summit of Manaslu, sixth highest mountain in the world, I felt proud and happy in 2012. Like the little boy who looked down from the first rock in Oberstdorf to his father, only slightly higher now and without a father who died in 1975. I missed him very up there, because I felt violently that without his passion and drive I would never have made it up here. I think he saw me, how high I stood: 8156 meters.

From Manaslu I could see Sagarmatha. This is what the Nepalese call Everest. Chomolungma, Mother Goddess of All. Tibetans also worship Everest. I saw his frightening plume, the ice cloud, which he threw wildly hissing into the atmosphere with a warning "Don't come near me".
The repellent was exactly the attraction I felt and inevitably attracted me to him. At the latest from then on Everest was a definite part of my life. The relationship I entered into with him began at the summit of Manaslu. Everest became more and more a kind of living being for me. Not a day without thinking about him.

On May 13, 2016 I stood on the summit of Everest. In its cloud of ice. During the whole ascent she hissed at me and I showed her how important it is for me to get as close as possible to her. To her summit, which I had all to myself with my long-term friend Son Dorje Sherpa who climbed with me. What a gift.
Humble and very grateful, we were the highest standing people in the world for 24 minutes.
Demütig und sehr dankbar waren wir für 24 Minuten die am höchsten stehenden Menschen der Welt.
Everest is still an important pillar in my life after the summit. He showed me too much about me to simply dismiss him with the ascent. Everest lives on in me.
29 years ago, this story also started similar to the one in Oberstdorf. My goal was to get closer and closer to heaven. But this time with the concentrated power of jet engines. Important helpers to get safely into the air and land safely with airplanes. The way was similarly exhausting as on Everest, my drive, daring and will was immense. I wanted to reach my goal.
Read more
Just proving to myself that I can do it. Resistance, even from my own family, did not stop me. I quickly realized what her true potential was. My further development.
As a captain, I have to take simulators every six months. Here it is not the mountain that tests me, but the simulator. Both the mountain and the simulator show me more about myself than I ever imagined. Many things that I learned as a captain I use on expeditions: Keeping a clear head, risk and self-management, decision making, resilience. To get back down in one piece. On the mountain and in the air. I live my passions. Mountains and my job complement each other perfectly. I am very happy and grateful to be able to live this life exactly the same way.
The Motivational / Special Speaker
I would like to share my experiences. With you. Why would I want to keep everything to myself? I want to carry you away, inspire, entertain, motivate, make you think, stir you up. Let us travel together. Maybe to the summit of Everest?
Read more
Without any risk. You just have to listen to me. And hook up to the virtual fixed rope I laid for you. And at the end of the lectures, you'll be struck dumb.
Let everything sink in. And come up higher and further than you ever thought possible:
L ooking death in the eye is no picnic. November 17, 2009 was my fateful day. Psychotic silence. After an avalanche that buried me. In alive and out alive again. What is the maximum increase of happiness? How many tons of it did I have that day? That's really all I can do.
Read more
The only thing I understood was that without the prudence and professionalism, without the clever crisis management of our Sherpas, without their knowledge, I would be dead as a doornail. In order to understand more, also to grasp the volume of my happiness, I needed professional help. Post-traumatic stress disorder, which burned the sweat on my forehead when I only thought of mountains. Climbing was impossible at that time.
With this very good help I managed to get rid of the avalanche in my head. Putting splinters together to understand. But also this stubborn feeling in me. To give back what I had been given as a gift: a second life. A perspective.
That was the birth of MountainProjects, my NGO. The registered non-profit association builds schools in remote regions of Nepal. For children who have no chance of education because there is no school for them. Giving them a perspective for a better life. To enable them to be able to return what they have enjoyed themselves at a later date. Cycle of Life.
Donating education. Changing lives
This is the goal of MountainProjects. I'm burning for it. With passion, daring and willpower. For the children.
Motivational Speaking Lectures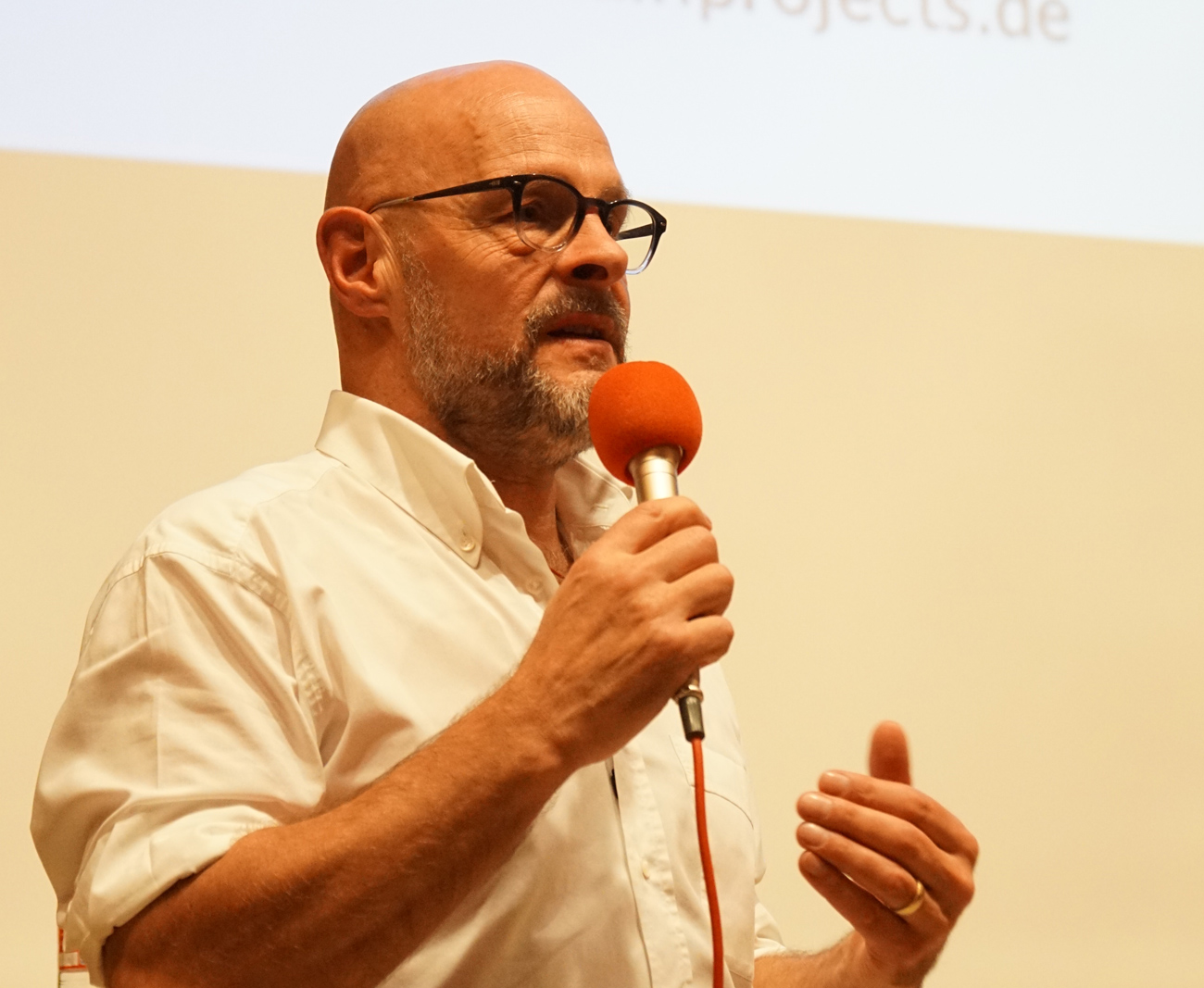 What is YOUR Everest?
Core message: What is YOUR personal Everest?
 Find out what your highest goal is. And how do I reach my summit?
More about the lecture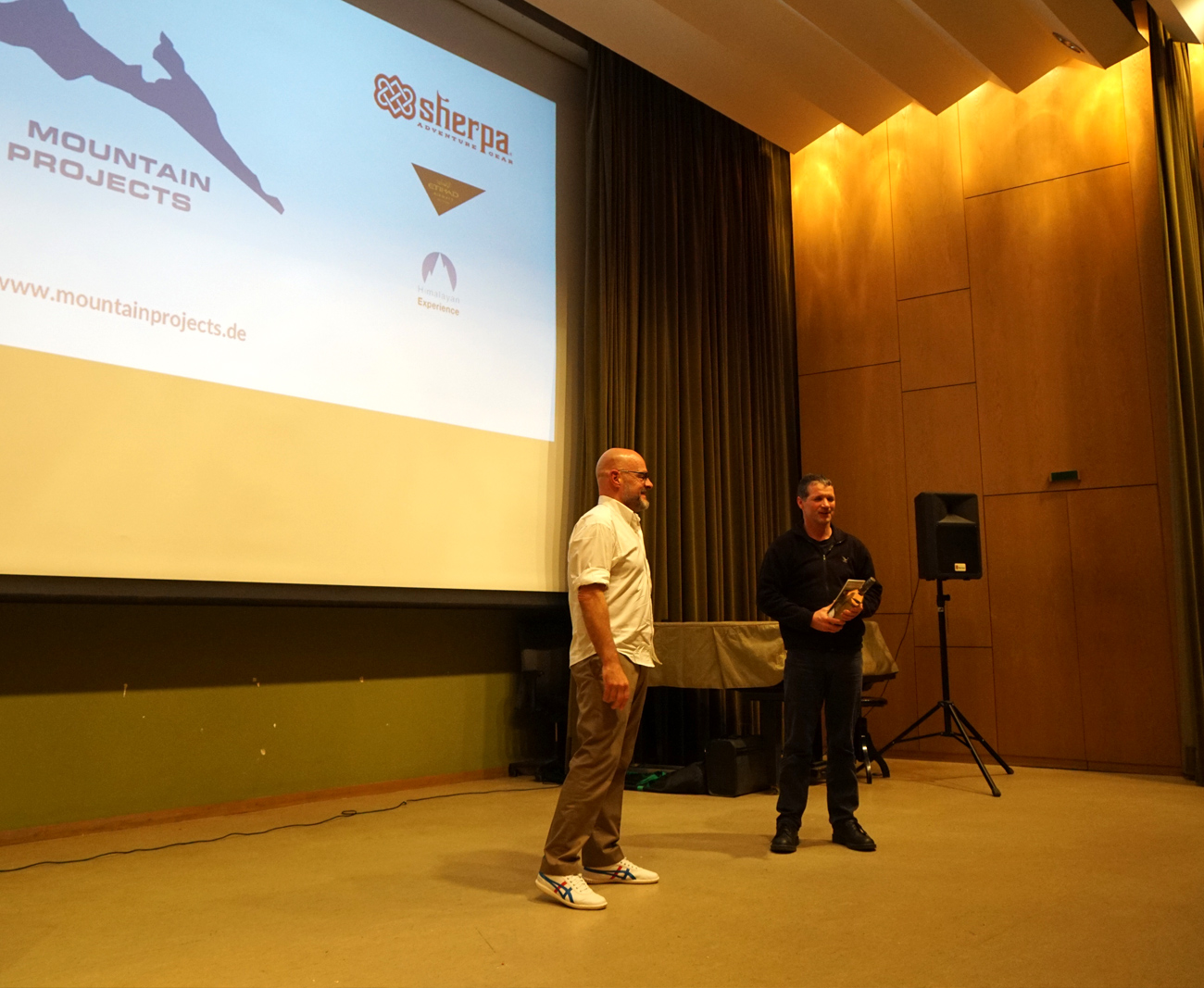 More about the lecture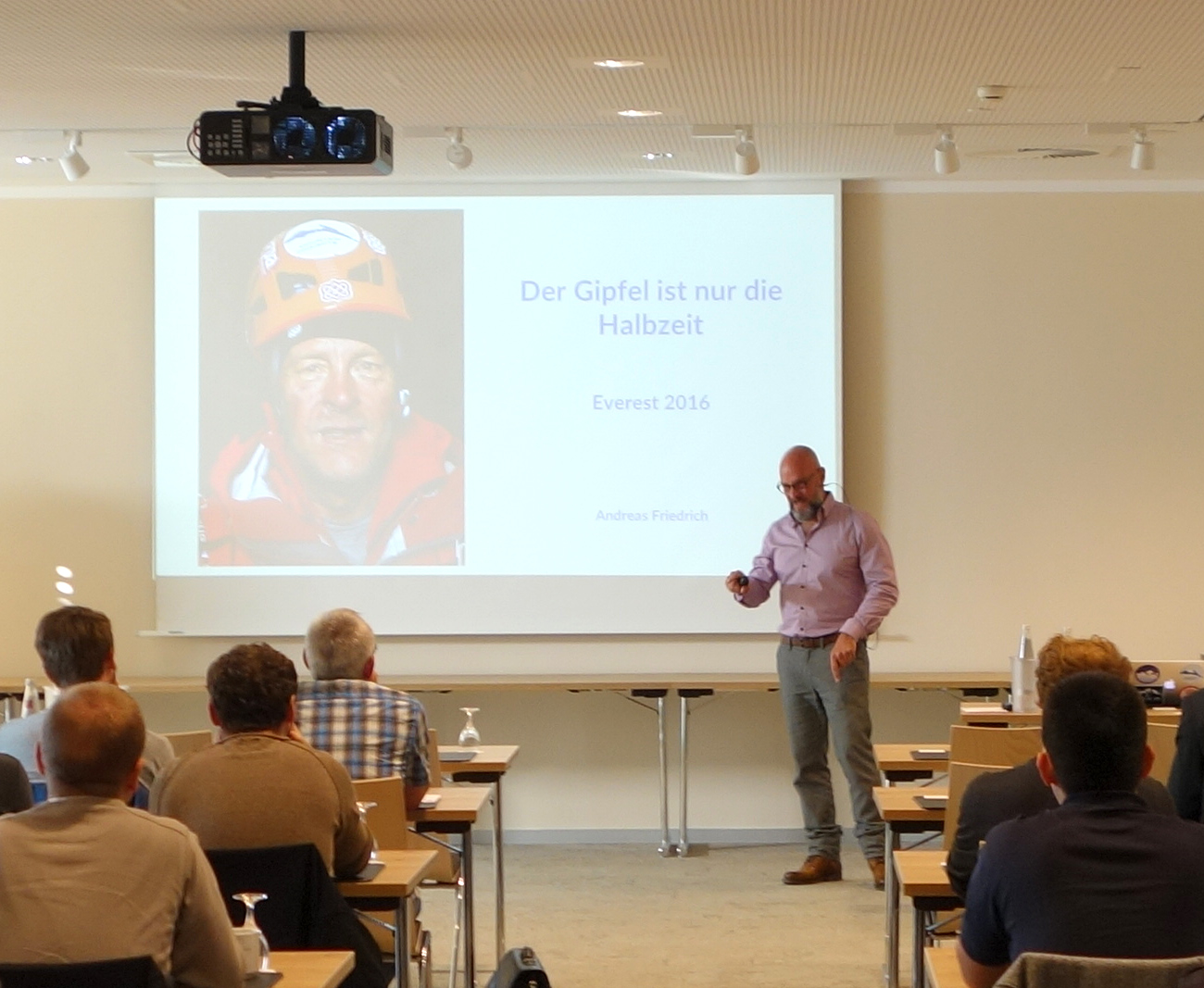 Faster Than The Risk
In this lecture I report in an exciting and entertaining way about my Everest expedition 2016 from the south side of the mountain
More about the lecture